Muppet Portraits
|

SERIES
"Distinctly Patriotic"

 | Sam Eagle

's presidential portrait
36"x48", Oil on linen
Upon closer inspection of the flag's ornament, one will discover that the golden eagle is shaped like Sam.
"

Kermit the Frog,

 here."
8"x10" (scale adjustable), Watercolor & Watercolor pencil
"

PIGGY

"
8.5"x11", Genuine magazine a la
Vogue
, framed
This issue of
PIGGY
 magazine is for Oct. 13th and is "priced" at 74 cents; Miss Piggy made her glamourous debut on October 13th, 1974.
Carousel of Progress
Pop Art 
|

SERIES
A tribute to progress & an homage to Andy Warhol
The Set
69.5"x36" (various alternate digital print sizes), silkscreen print
The sequence of background colors in the set above corresponds with the sequence of colored lights that illuminate the attraction's logo at the beginning of the show.
Individual Pieces 
(including, but not limited to, the above)
16"x16" (various alternate digital print sizes), silkscreen print
Left:
Two Color Studies in Diffuse Neutral Light
Middle:
"After the Rain,"
 Play Sketch
Right:
"Frog Begins His Journey,"
 Animation-Style Painting
Select Early Academic Works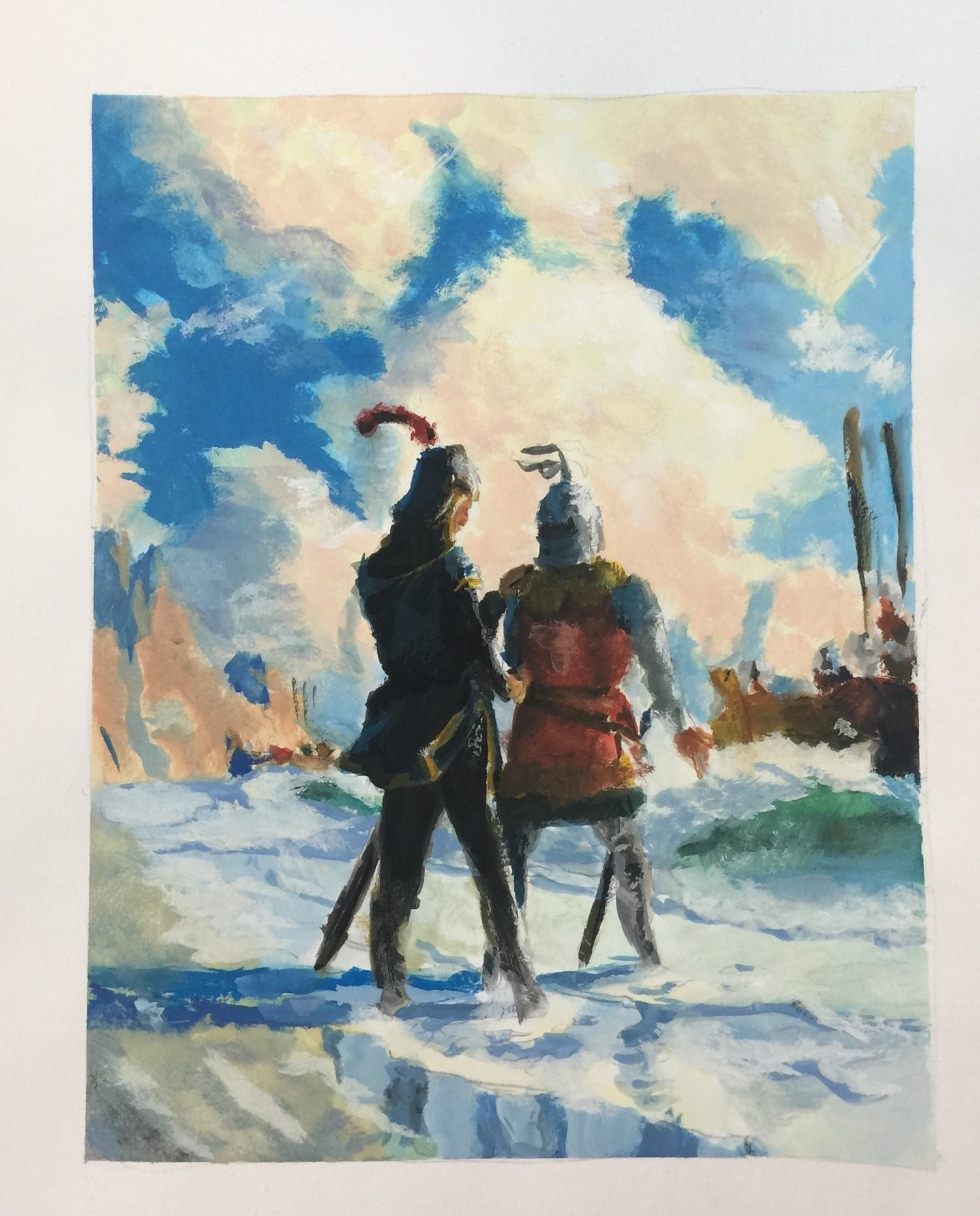 Extra:

Collaborative Projects
Tall Order

|

Award-winning animated short film
Roles:
Director, Story Lead, Visual Development Artist, Character & Visual Effects Animator, Lead VFX Artist, Editor & Compositor.
Set in the height of the prohibition era,
Tall Order
is a 2D-animated Noir/Comedy about an unorthodox detective who takes the mafia head-on.
From the project's initial conception up to its final polish and marketing, Christophe led a 13-person team through an entire film production pipeline, across both remote and in-person workspaces. 
Tall Order

constituted the grandest in scope, among the collaborative projects that have earned Christophe respect among his creative peers and recognition for his professionalism, work ethic, and abilities as a leader widespread.
Tall Order

 won the

2022 Filmshort Creative Awards

, received an Excellence Award, and has so far cemented its place as a finalist in a growing number of additional festivals such as

The Rookie Awards 2022,

 

Florida Animation Festival 2022,

and

Oregon Short Film Festival 2022

; the short film is only just beginning its lengthy, worldwide festival run.
"

Appealing Animation

"

|

3D-Animated Vignette
The purpose of "
Appealing Animation's
" conception was to demonstrate one of the many applicabilities of
Side FX Houdini
to film.
"

Appealing Animation

" is the joint work of a programmer and an artist; Under the hood, Much of the low-level technical elements, most notably the premise of the short—the peeling effect—was brought to life by Jon, as the programmer. On the rest of the visual side, all props were modeled, animated, with their textures painted by hand, by Christophe, as the artist. The two teammates merged and polished each element of the project into a whole, at which point Christophe composited the film into its final look.
Soon after its completion, "

Appealing Animation

" was featured in the 2020 annual 

Houdini Student Reel

(2:38), on

SideFX

media platforms, and was used as marketing material by 

DigiPen Institute of Technology

for the private university's courses on

Houdini

.